Looking for a healthy and tasty side dish for your next meal? Try this zucchini stir fry! It's super easy to make: just roughly chop  the vegetables  for the zucchini stir fry and cook them in a skillet with some avocado oil and minced garlic. Season with salt and pepper to taste, and voilà! You have a nutritious and colorful stir fry that pairs well with rice, noodles, or any protein of your choice.
Benefits of zucchini
Not only is this zucchini stir fry low in calories and high in fiber, but it's also packed with vitamins and minerals that support your immune system and overall health. Zucchini and yellow squash are good sources of vitamin C, potassium, and folate, while carrots are rich in beta-carotene, a powerful antioxidant. 
Zucchini is versatile
Zucchini is a versatile and nutritious vegetable that can be used in many different types of dishes, including stir-fries. To prepare zucchini for a stir fry, you will need to first wash and slice it into bite-sized pieces. Then, you can heat a little bit of oil in a wok or large frying pan over high heat. Add the zucchini to the pan and stir-fry for a few minutes until it is just starting to become tender. You can add other vegetables or protein at this point, such as sliced bell peppers, carrots, onions, garlic, chicken, beef, or shrimp or you can leave them out.
To season the stir-fry, you can use a variety of sauces and spices. Be sure to taste as you go and adjust the seasoning to your liking.
Once everything is cooked through, you can serve the stir-fry over rice or noodles for a delicious and healthy meal.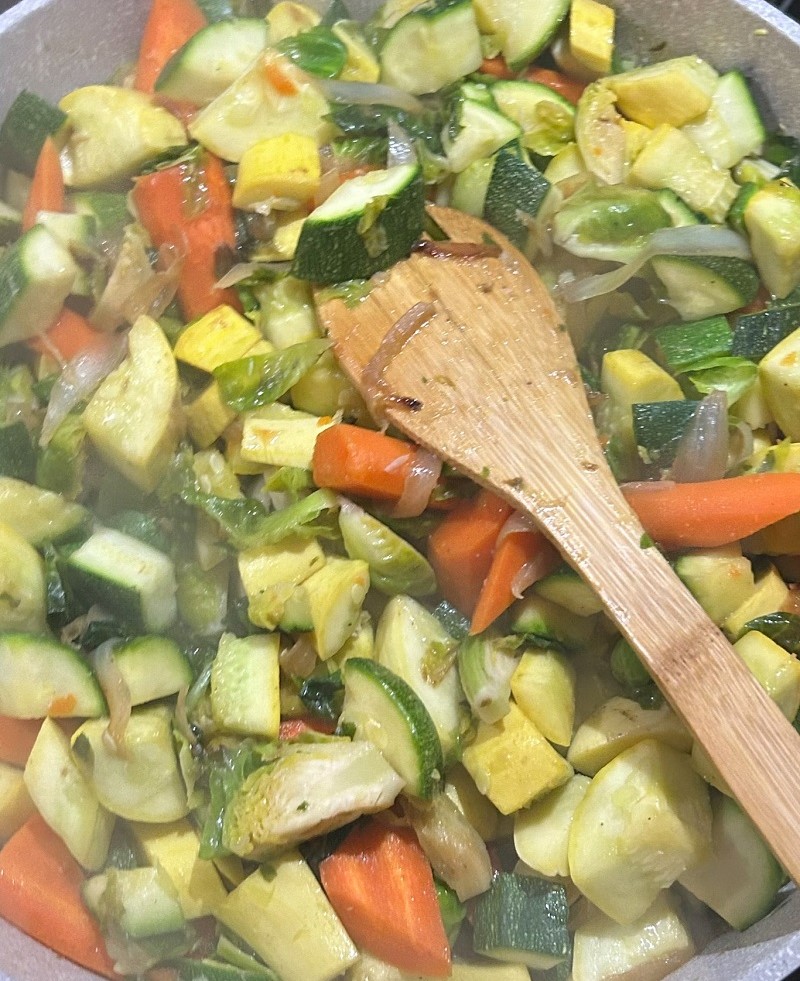 Ingredients
1

large zucchini

, quartered

1

cup

brussels sprouts

, cut in halves

1

large yellow squash

, quartered

2

carrots

, peeled and cut  in thirds

½

medium onion

, sliced

2

cloves

garlic

2

tbsp

avocado oil

½

tsp

ginger powder

salt and pepper

, to taste
Instructions
Heat the avocado oil in a large skillet over medium-high heat. Add onions and garlic. Cook for 1-2 minutes until fragrant.

Add the chopped zucchini, yellow squash, and carrots to the skillet. Stir the vegetables. Cook the vegetables for 8-10 minutes, stirring occasionally, until they are tender but still slightly crisp. Season the stir fry with salt and pepper to taste.

Serve over rice for a complete meal.

Enjoy your delicious and nutritious stir fry!