Chili anyone? This No Tomato No Bean Chili is a labor of love. I know what you're thinking…What's so special about this Chili? Well it doesn't have tomatoes in it. Ha! Hence the name. So what's the secret? This Chili is made with a No Tomato Marinara sauce. Simple, delicious and a safe dish for my nightshade intolerant foodies.
Food Allergies
I have had my share of them. If you haven't noticed, the majority of the foods on my blog are made with food sensitivities in mind. I have a daughter who is allergic to peanuts, pecans, walnuts, and bananas. Say that 10 times fast. So the majority of my recipes will not have any of those ingredients because the risk of her going into anaphylactic shock is not worth it. Just sayin'. The rest of my family including her are dairy intolerant. We all can have butter and 3 out of 4 can have parmesan (number 4, my husband – doesn't like cheese – odd I know).
What affects one may not affect the other.
I know some of you are allergic to nightshade so I made this recipe with that in mind. I understand. Some of you might be allergic to chili powder, so by all means please omit that and replace it with something else,. You can use coriander powder if you wish. Always make sure the recipe fits your taste buds and your needs because who likes being sick especially from food. No one!
Fooling your family and friends
Ok – My family is known for jokes, pranks and the rest. I love making these allergy free foods that my family would normally say, "No, thank you!" Instead they say, "Can I have some more?". My husband and my daughters were shocked when i told them – nope, no tomatoes! LOL
Why are nightshades bad?
Nightshades are not bad for all, but for some. They are high in nutritional value and vitamins. Remember: Everyone is different. For some, that may cause inflammation or may have a negative response to someone with autoimmune issues such as arthritis, acid reflux, etc. I am not a medical professional, but I know personally that some foods hurt. I try to cook foods that keep the allergy sensitive person in mind – mainly my family.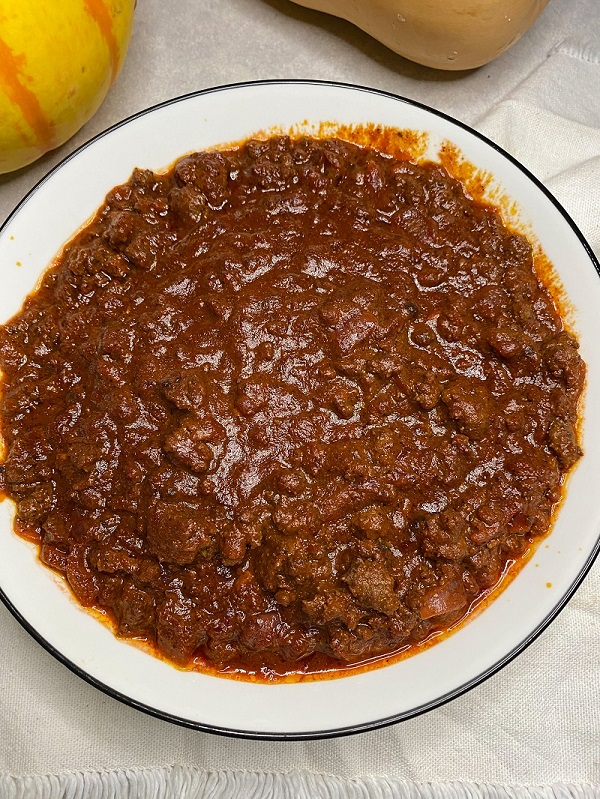 Ingredients
Ingredients for the No Tomato Marinara Sauce
1

tbsp

extra virgin olive oil

2

yellow onions

, chopped

4

garlic cloves

, minced

1

sprig

fresh thyme

1

tsp

marjoram

1

tsp

oregano

1

tsp

basil

1

lbs

carrots

(5-6 carrots), chopped

1

medium beet

, peeled and chopped

1

cup

water

¼

tsp

black pepper

1

tsp

Kosher salt

2

tbsp

fresh lime juice
Ingredients for the No Tomato No Bean Chili
2

lbs

ground beef

1

large yellow onion

, finely chopped

4

cloves

garlic

, chopped

1

cup

no tomato marinara sauce

1½

tbsp

chili powder (optional)

1½

tsp

cumin powder

1

tsp

garlic powder

1

tsp

oregano

1

tsp

Kosher salt

1

tsp

black pepper

4

tbsp

garlic

, minced

2

cups

water
Instructions
Instructions for the No Tomato Marinara Sauce
In a large pot add oil, onions, garlic, carrots and beets, over medium heat, Next add thyme, marjoram, oregano and basil.

Mix all the ingredients together.

Sautee for about 5 minutes.

Add water and bring the mixture to a boil.

Cover and lower the heat to a simmer, about 30 to 35 minutes until the carrots and beets are fork-tender.

Next carefully pour the mixture into a high-speed blender.

Add the salt and lemon juice, and blend until smooth. You'll need to cover the vent of your blender with a dish towel blending to keep the top from popping off due to the pressure from the hot mixture. You can either let the mixture cool or use a dish towel to cover the vent.

Taste for salt and add if needed.

You can also add additional water, if you'd like a thinner sauce.

Serve warm over any of your favorites and enjoy!

You can store it up to 1 week in the fridge for up to a week,

Store in the freezer for 4 months.
Instructions for the No Tomato No Bean Chili
Add beef and garlic to a large stock pot. Crumble the beef with a wooden spoon or this handy do-dad – Ground meat chopper. Add in your chopped onion, ½ of the seasonings. Chili powder, cumin, garlic powder, oregano, salt and black pepper. Cook on medium high, occasionally stirring, until all the beef is browned and seasonings are well incorporated.

Drain excess grease before moving to the next step.

Once the ground beef is cooked, add the No Tomato Marinara Sauce and the rest of the seasonings and mix.

Add water, about a cup to start. Add more water if the chili is too thick.

Stir. Cover and let simmer for 20 – 25 minutes.

Taste. Add extra salt or pepper. Top with green onions, avocado, cilantro, or onion. Enjoy!
Notes
Use ground turkey instead of beef.
Serve over rice, cauliflower rice or pasta. (my kids love it with chips.)