Coconut Curry Chicken is a delectable chicken recipe saturated with fresh ingredients and submerged in a luscious coconut curry sauce. I fell in love with it the first time I had it. I recommend you try it. I love the blend of coconut milk, curry and tomato paste. It can be paired with rice or a side of your choice. You can also make it Keto by serving it with cauliflower rice.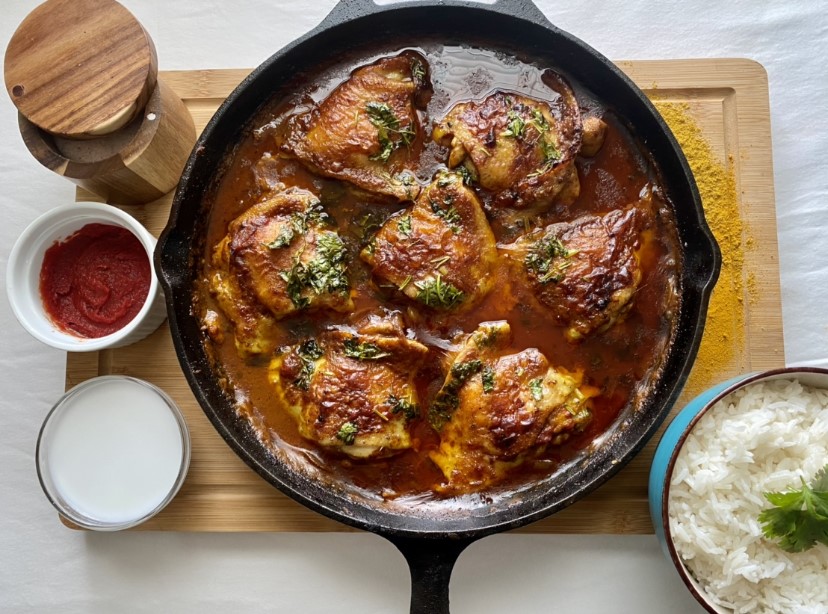 Ingredients
7

chicken thighs

, skin-on, bone-in

1

tbsp

coconut oil

1

large onion

, cut in half and sliced

2

tbsp

garlic

, minced

1½

tsp

ginger powder

1

tsp

ground cumin

1

tsp

curry powder,

1

tsp

ground turmeric

1

can

coconut milk

¼

cup

vegetable stock

2

tbsp

tomato paste

2

tbsp

fresh cilantro

, chopped (leaves only)

black pepper to taste

Kosher salt to taste

cayenne pepper

(optional)
Instructions
Put chicken thighs in a bowl. Season with salt, pepper, cayenne, and cumin.

Add coconut oil and garlic in a large cast iron skillet. Then add chicken and cook for 3-5 minutes on both sides and crisp, remove and set aside.

Sauté onions in the same pan, if needed add a little more coconut oil. Sauté for 2-3 minute then add ginger, garlic, curry, turmeric and fry for another 20-30 seconds.

Preheat the oven to 350 degrees.

Add vegetable broth, tomato paste and coconut milk and mix and let it simmer for 3-4 minutes. Add the chicken thighs to the sauce then turn down the heat and allow to cook for 5 minutes and then put the cast iron skillet in the oven for 35 minutes, until the chicken is cooked (insert meat thermometer into the thickest part of the chicken to ensure that the temperature is 165ºF before taking it out of the oven).

Remove from the oven and sprinkle chopped cilantro over chicken.